Holiday Lights: Time To Step Into The Cold
Monday, December 20th, 2010 at 4:58 am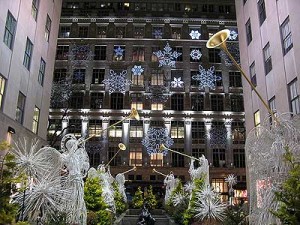 An excellent time and opportunity to take pictures of your family, friends and neighborhoods, are these holiday seasons! Do not be discouraged by cold weather and short daylight hours. Modern digital cameras, even some of the cheapest ones, can handle the low lights extremely well. So it is time to step out into the cold and record the moods, the gaiety, the candles and the decorative lights strung up by malls, streets, cities and so many others.
The first rule to take any pictures with lights facing the lens is to turn off the camera flash. A flash robs the scene of its natural colors. When taking pictures of holiday decorations of colorful store displays or a well decorated neighbors' house, you should select a slow shutter speed. It is preferable to use a tripod or solid, stable base for your camera when using slow shutter speed; otherwise, you will get a blur with even the steadiest of hands. Use ISO400 or 800. Do not use automatic white balance, as that can drain color from the scene. Follow and experiment with color balance presets recommended in your camera's instruction manual. Check your LCD panel, make adjustments and shoot.
Now suppose you want to capture bright lights and a friend in the foreground. Flash will capture your friend, but will minimize the bright lights behind. If you don't use the flash, you will get very good details of the holiday lights, but your friend will be just a silhouette. To overcome this, many of the modern point-and-shoot cameras have a setting with a funny looking icon which is sort of hieroglyph indicating night picture with a person in front of lights. This setting allows the camera flash to fire first, thus capturing your friend, and the lens stays long enough to capture the light in the background. Make sure your camera is mounted or placed steadily; otherwise the long exposure will ruin the picture.
Twilight is one of the best times to shoot outdoors for some spectacular scenes. Some colors in the sky in the background bring so much appeal when compared to a pitch-black tone of late nights of winter.
One of the most common mistakes, when shooting portraits, people, holiday decoration and lights, is to shoot from a distance. If you zoom in to the subject, it affects shutter speed. Just move closer instead.
Want to shoot holiday lights inside? Turn on just enough lights in the room and the next room to increase the ambient light, instead of turning on the flash which can produce a harsh and high-contrast effect that obliterates the brilliance of light. To raise the ambient light without overpowering the holiday lights, carefully position some incandescent lights.
And by the way, if you need to organize your photos using face recognition technology or share photos on private network, check out Fotobounce.
When out in the cold, taking pictures keep your camera in the pocket or bag until ready to shoot. A few flakes of gentle snow are not going to adversely affect the camera. Framed pictures make a delightful holiday gifts, and there is someone in your list, a small kid maybe, who would is wishing to receive a camera as a present. Some of them are so inexpensive…what a value for a lifetime of memories!
Laxman Samtani is a director of partner programs at Applied Recognition Inc, based in Toronto, Canada. You may visit his website http://www.fotobounce.com. Some of Fotobounce features: Built-in Face Recognition Technology, stop wasting hours individually tagging your photos! Facebook/Flickr Integration, upload your photos right from Fotobounce and avoid having to painstakingly re-tag your photos! Circle of Trust, Share photos only with those you know, Fotomobile, browse your photo library on the go from your BlackBerry, iPhone, or iPod Touch!
Filed under: Uncategorized
Like this post? Subscribe to my RSS feed and get loads more!